CRAIG CHAQUICO  (1974 – 2015)
 
 CRAIG CHAQUICO – 

JEFFERSON STARSHIP & STARSHIP The Original Hits Gold & Platinum Years (

1974-1990)

"Guitars are the best thing about live rock bands and Chaquico is easily the best thing about Sarship.  His guitar sings. Borrowed from the Grunt Records (the Airplane's own label) group, Steelwind (who opened the show), Chaquico drives and rails his six strings, stylishly shifting tones, colors, shading with electronics.  His feeling is unerring and the bountiful solos he provided Saturday were by far the most rewarding aspect of the performance." – Joel Selvin, San Francisco Chronicle, April 22, 1974

 "Red Octopus – The return to Jefferson Starship of Marty Balin as songwriter and singer and the emergence of guitarist Craig Chaquico resulted in the finest music since the heyday of the Haight" – Rolling Stone Magazine, January 16, 1975 – issue # 178

 Earth – "When Grace Slick steps front and center, you think think you're on another planet. Two of the songs she sings were written by Craig Chaquico, the band's hot young guitarist." – Dave Marsh, Rolling Stone Magazine, May 4, 1978 

 Spitfire – "Perhaps more crucial to the Starship's success is the growth of their brilliant young lead guitarist, Craig Chaquico… That the Starship would find  and develop a talent like Chaquico shows astuteness and generosity. It is one of many signs that this tribe has the spirit and the will to replenish itself, however and whenever necessary." – Stephen Holden, Rolling Stone Magazine, issue # 652: 

"Dragonfly was an exuberant, confident reassertion. Red Octopus allowed the individual members to shine more brightly. Spitfire is their most cohesive, best-produced album. Together, these works comprise one of the finest contributions to American rock in the Seventies." – Stephen Holden, Rolling Stone Magazine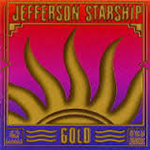 "Jeffersons Starship Gold / Starship Ten Years and Change [the Official All Original 1974-1990 Recordings Greatest Hits Albums ] – "Chaquico was the only member to have appeared on every album, tour and video ever produced by the band that went through various members and name changes."– Stephen P. Wheeler, SongWorks
"Craig Chaquico, whose solo career began at age 16, now forms the backbone for the Starship."– Scott Flood, Night Rock News
"Chaquico has been with the band since 1974, and has influenced their style throughout the years"– Steve Mahofski, staff music writer/reporter 
"Chaquico's fretboard acrobatics and talent for creating memorable hard-rock hooks transformed average pop songs like 'Jane',  'Find Your Way Back', [Both Craig Chaquico cowriter compositions] and 'Ride The Tiger' into timeless radio staples."– Guitar Shop, 1996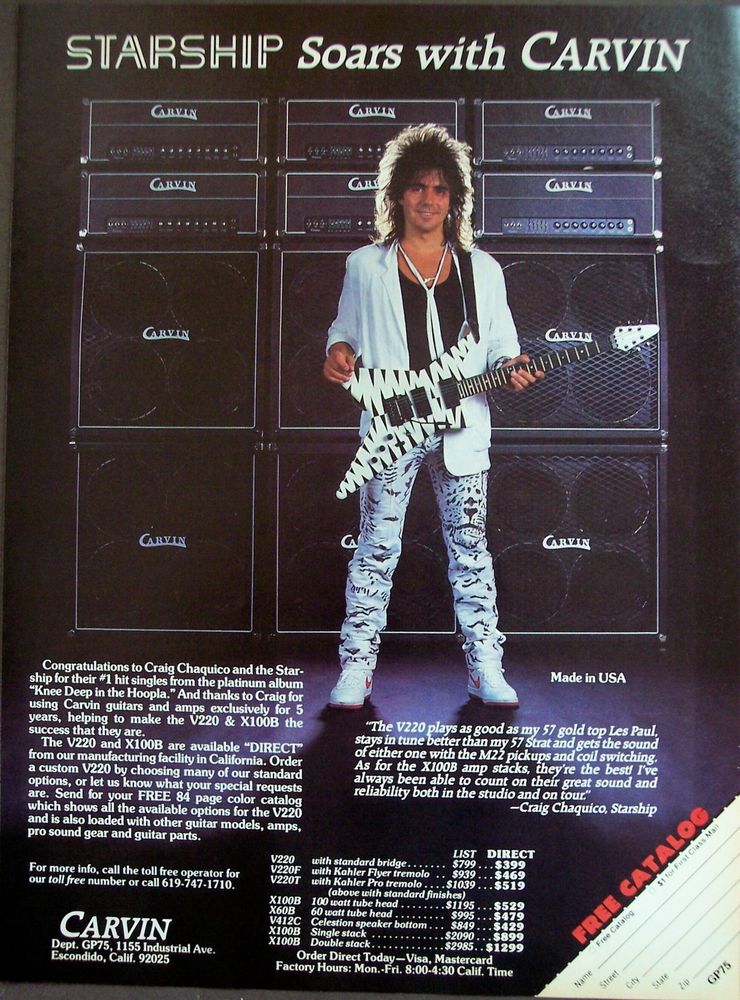 "The most enjoyable aspect of the show for me was guitarist Craig Chaquico. He is an excellent guitarist and achieved great sounds through an assortment of CARVIN guitars and CARVIN amps.  It's nice to see someone actually use the products he endorses." – Jim Vranna, Musical Notes

"Much of the credit is due to Chaquico, who has evolved into a premier rock guitarist in recent years.  His assertive arrangements and solos on singles 'Jane' and 'Find Your Way Back' [Craig Chaquico cowriter compositions] have won the band a whole new audience."– Denver Post

"There's Craig Chaquico, who joined the band as a high school aged babe and has developed into one of the most popular music's premier guitarists."– Colorado Press

"Not only did  Chaquico add firepower to the band, his melodic support defined the group's distinctive sound."– Pure Music, 1996
"It took two numbers to establish that Craig Chaquico was going to steal the show.  His fret work was immaculate all the way through, supplying 'Skateboard' with the definitive guitar solo, phasing briefly into the strains of 'Somewhere Over The Rainbow' in the middle of  'Wooden Ships', and doing the age-old tribute-to-Hendrix but by playing a large amount of  'Sweeter Than Honey' with his teeth."– Mark Ellen, New Musical Express on the Knebworth England Pop Festival -1978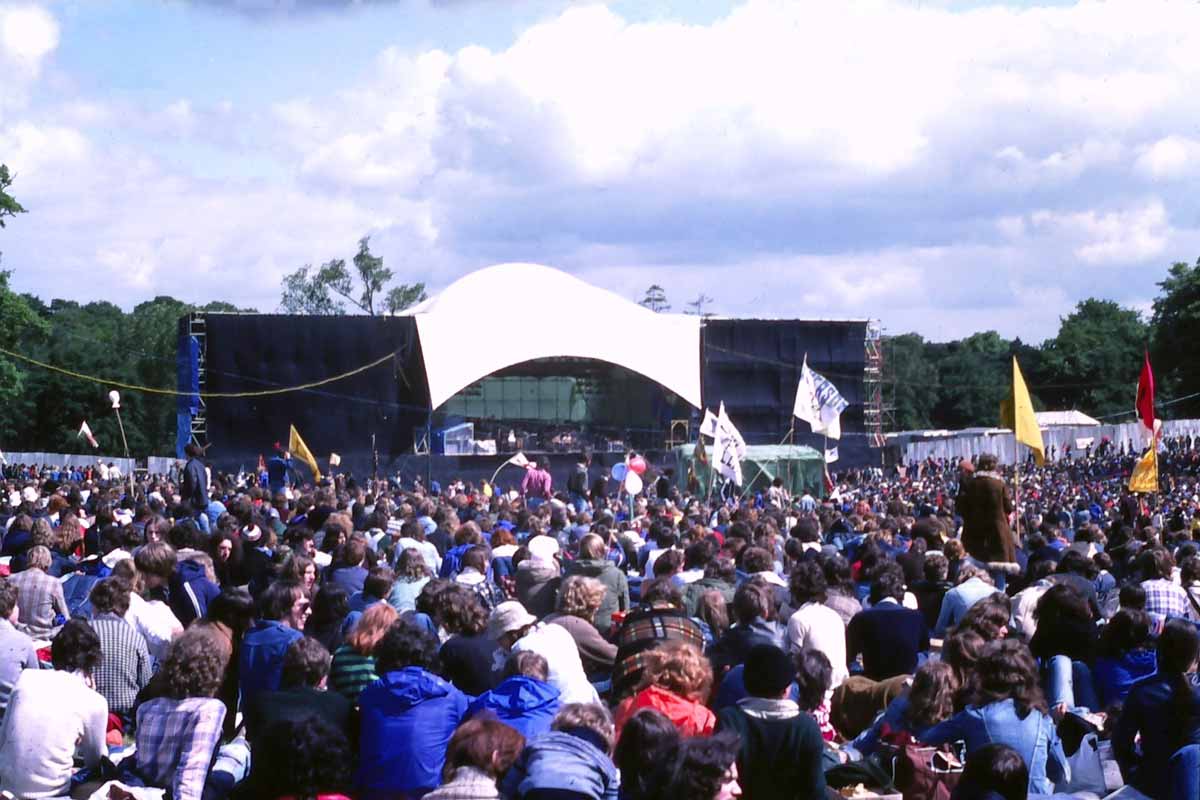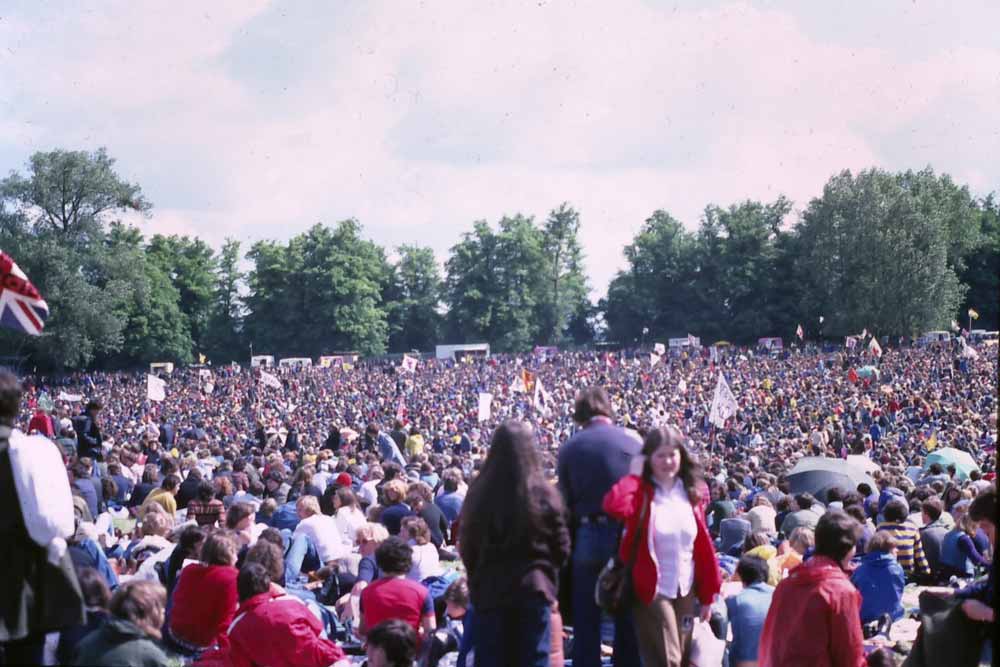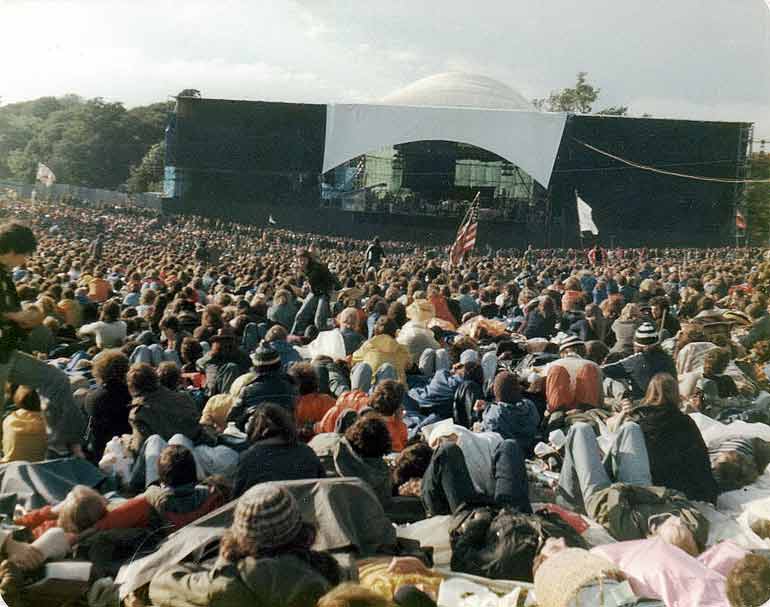 [Performing in front of 100,000+ people, Craig Chaquico, Paul Kantner and Marty Balin with the original Jefferson Starship (….sans Grace Slick just after a canceled concert in Germany) headlining here with Genesis,  Tom Petty,  Devo, The Atlanta Rhythm Section and more]

"Guitarist Craig Chaquico poured molten, liquid leads into the heavy-weight rock sound of the band, but kept his solos pungent, brief and to the point.  No endless improvisations.  No wasted moves.  Just hot rock, no frills."– Joel Selvin, San Francisco Chronicle 

"… but the highlight of that tune was Chaquico's guitar solo.  Playing zealously all night, he cut completely loose on this song, bouncing all over his corner of the stage, pumping his bright purple customized guitar rhythmically and simultaneously rolling out fluid ripples of sound, finally leaning back as if the instrument had taken over."– Maggie Johnson on performance at the Sullivan Sports Arena, Anchorage, AK
"Craig Chaquico's guitar work was the one stand out of the night.  It was obvious that he was in to what he was playing and his enthusiasm spread into the crowd."– Rich Sutton on performance at the New England Coliseum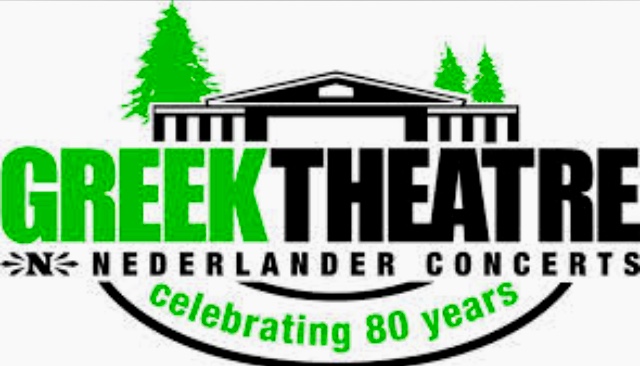 "Guitarist Craig Chaquico, one of the newer members of the group, provided some of the liveliest moments of the night though, with a couple of surprisingly inspired solos, one of which drew a deserved standing ovation less than a half hour into the show."– Frank Farrar on performance at the Greek Theatre

Jefferson Starship at the Universal Amphitheater- "Yes, Micky Thomas is an accomplished, versatile singer, and Craig Chaquico a fleet-fingered guitarist. But at its best the Starship attracts not with its technical proficiency, but with its noisy, sometimes anarchic and always intriguing spirit."  – Steve Pond, Los Angeles Times
 "On the instrumental side, the proceedings were tight and exuberant, sparked by lead guitarist Craig Chaquico's sizzling, true-to-genre work" – Hollywood Variety 1981

  "Lead guitarist Craig Chaquico, switching guitars nearly every song, was capable of wrenching nearly any sound or style he wanted from the assortment of instruments he used and dazzled the arena audience with the technical expertise."– Jill Warren, Indianapolis Star
"Chaquico was a showoff all night, dragging every cliché out of the guitar bag of tricks: "stabbing" at the audience with it, playing it with his mouth and behind his neck, etc.  But he does it impressively; he's certainly the best guitarist Starship/Airplane has ever had."– Pete Bishop, Pittsburg Press
 "With his guitar solos, Craig Chaquico practically stole the show.  The youngest of the band at 25, Chaquico can make any audience go bananas.  Like a scapel-happy surgeon, the lead guitarist cut his way through an off-stage arsenal of guitars as the gig progressed."– Arthur Cabasos reporter on performance at Wintergarden Auditorium
"Without exception, compositions are framed about Chaquico's playing; he takes every solo.  Musically and visually, he is the forefront substance of the band.  So while from a historical perspective it is Kantner and Slick selling the tickets. It is Sears and Chaquico that deliver the goods."– Tim Switala, the Buffalo News
"It's hard to tell what's really fueling Jefferson Starship these days.  Just as you begin to think it's high-octane guitarist Craig Chaquico, some diehard hands Grace Slick a dozen roses"  – Tim Switala, the Buffalo News
"Equally engrossing was guitarist Chaquico, worth the price of admission.  Chaquico, often strapped with two guitarists at a time, is a very athletic player, perhaps too athletic at times.  But he is crucial to the very existence of Jefferson Starship."– Tim Switala, the Buffalo News

"The lead guitarist, Craig Chaquico, favors long blues codas on any and all the group songs."– Stephen Holden, the New York Times, Tuesday, November 9, 1982
"The musicianship continues to be first –rate with guitarists Craig Chaquico…."– John Firth, Enterprise News & Sun, on concert at the Ventura County Fair Grounds

"Outstanding solos were performed by bassist Sears, drummer Baldwin, and Chaquico, whose technical proficiency is quite underrated."– Peter Kanze, Billboard Magazine on Brendan Byrne Arena concert  

"Chaquico's grinding guitar work is the group's greatest live attraction. Another strength, the Slick and Thomas singing combination, teamed well on such songs as 'Be My Lady' and 'Find Your Way Back', [Craig Chaquico cowritten composition] but it's the talented Chaquico who rocked with work on 'Ride the Tiger', 'Stranger' and 'Jane'  [Craig Chaquico cowritten composition] that was most impressive."– John Keller, San Diego Citizen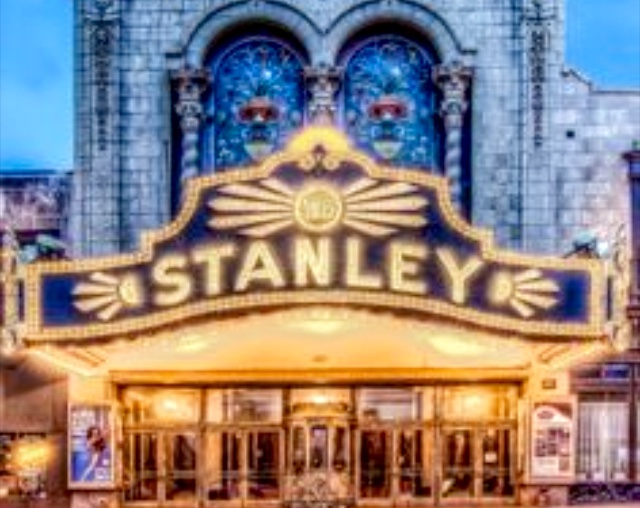 "Beyond Thomas, lightening quick Craig Chaquico, and his fingers dance up and down the strings."– Rex Rutkoski on Jefferson Starship at Stanley Theatre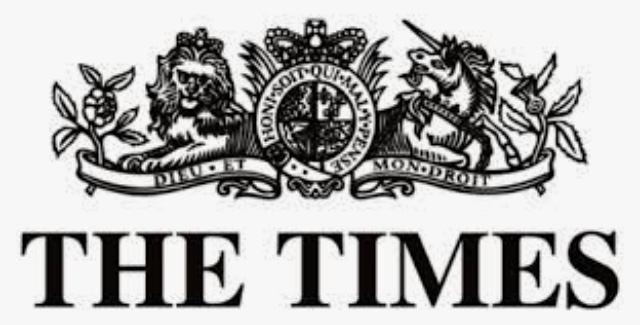 "The band's sound was tight, polished and almost unbelievably full of energy.  Particular praise is due to guitarist Craig Chaquico, who seemed to be playing to individual people in the audience, rather than to a crowd."– John Andrew, The Times

 "One of the highlights of the concert was lead guitarist Craig Chaquico gyrating his way through 'Fast Buck Freddie' [Craig Chaquico/Grace Slick composition] and 'Rock Music' [Craig Chaquico / Pete and Jennette Sears composition] and playing two guitars simultaneously.  The energetic guitarist is a crowd pleaser."– Johanna Crosby, Cape Cod Times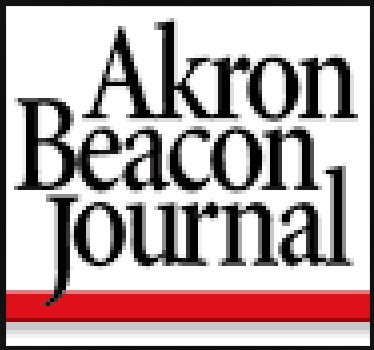 "Chaquico abandoned the Chuck Berry impressions for more natural movements and showed why he's one of rock's most exciting lead guitarists.   His solo on 'Just the Same' [Craig Chaquico  composition] was absolutely cataclysmic.  It was so clean and precise, so brilliant you could almost see the notes skyrocketing like tracers from the strings."– Mark Faris, Akron Beacon Journal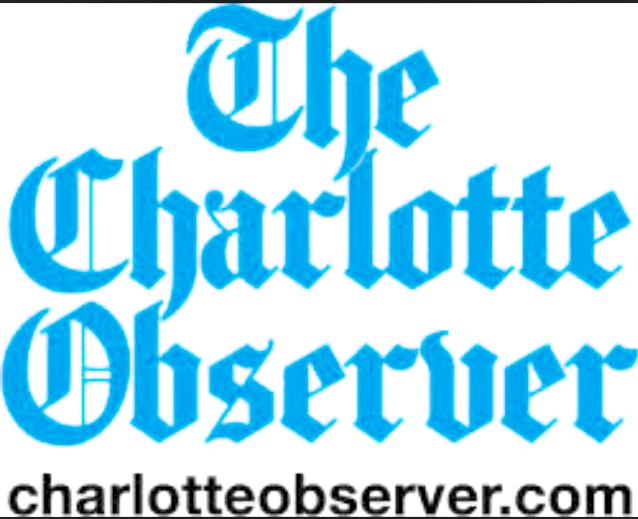 "Craig Chaquico, especially, took full advantage of the rock patterns to milk each lead.  In 'Freedom at Point Zero',  he gave the front rows a clinic in how to play rock guitar."– David Earl, Charlotte Observer
"Guitarist Craig Chaquico, a Starship mainstay since his teens, was in superfine form Thursday, often holding the guitar straight up and down while squeezing out ear-piercing, gut-wrenching leads."-Greg Beebe, Santa Cruz Sentinel
"The new Starship course keeps a straight and steady rock flight pattern, solidified by the fact Chaquico has taken a more prominent role in songwriting and arranging."– Greg Beebe, Santa Cruz Sentinel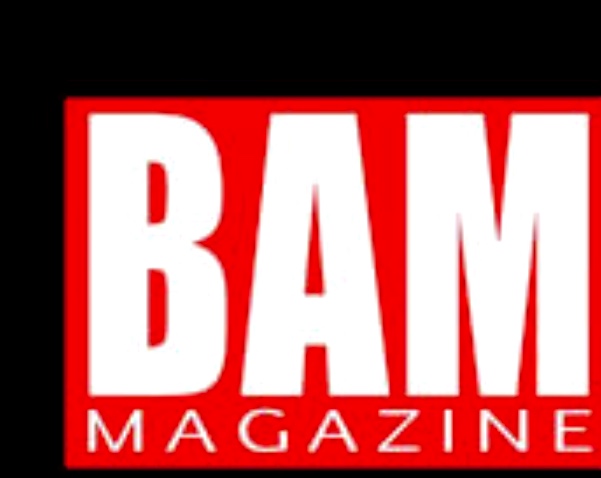 "Craig Chaquico, in addition to fingering searing and melodic lead guitar lines, unleashes an inventive songwriting and arranging talent, resulting in 'Find Your Way Back' ". [Craig Chaquico composition] -Dave Zimmer, BAM Magazine
"And if Baldwin is the baby of the band, the 28-year-old Chaquico is the teenager.  He started playing professionally when he was 14, putting on a fake mustache to play the Bay Area bars that required musicians to be 21 and lying to this parents about where he was going at night.  He hooked on with guitarist Katner and Slick on his 16th birthday, when the two recorded 'Sunfighter'. Since then he's slowly maneuvered himself into a piloting role as the hardest-rocking member of the Starship, the musician who admits to a taste for bands like Van Halen and AC/DC."– Gary Graff, Free Press
"Craig Chaquico on lead guitar first began playing for Katner and Slick when he was just 16.  His five-minute solo last night indicates that he has marked his passage into musical manhood."– Linda Compton, Special to the Journal
"One constant in the Starship has been lead guitarist Craig Chaquico, who is the highlight of their current road show."– Rich Sutton staff entertainment writer
"Craig Chaquico has developed into a total guitarist. He was always sizzling; now he's added elegance." – Michael Rogan, music writer/reporter
"Craig Chaquico's battery of guitars almost singlehandedly lifted the show off the ground, particularly during his furious solo on 'Save Your Love'."– Thom Duffy, staff reporter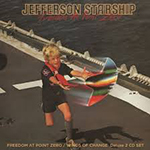 "Freedom at Point Zero' is far behind them now, and with Chaquico and Dunbar taking the helm, they are firmly ensconced on the way up."– Scott Flood, Night Rock News
 "To the Starship: Let the Sears and Craig Chaquico handle the writing.  Keep Grace on vocals.  And, keep listening to those winds."– Mike Brown, Soundtrax  [on "Winds of Change"]

" 'Winds of Change' is very pretty and easy on the ears."  "The title cut and 'Black Widow' [Craig Chaquico/Grace Slick composition]  are probably the albums standouts."– Mike Clegg, music writer/reporter
  "Jefferson Starship has completed its new album 'Winds of Change' on the Grunt label.  The group is as solid as it has ever been with Craig Chaquico on lead guitar."– Tony Tyler, Knickerbocker News
"Side One, for instance features a flat-out rocker by guitarist Craig Chaquico called 'Keep on Dreamin' " [Craig Chaquico composition]–Time Tribute reviews on new releases
" 'Keep On Dreamin' [Craig Chaquico composition] , 'Be My Lady' and 'Can't Find Love' [Craig Chaquico composition] all feature great guitar work by Craig Chaquico."– George Holzer, reporter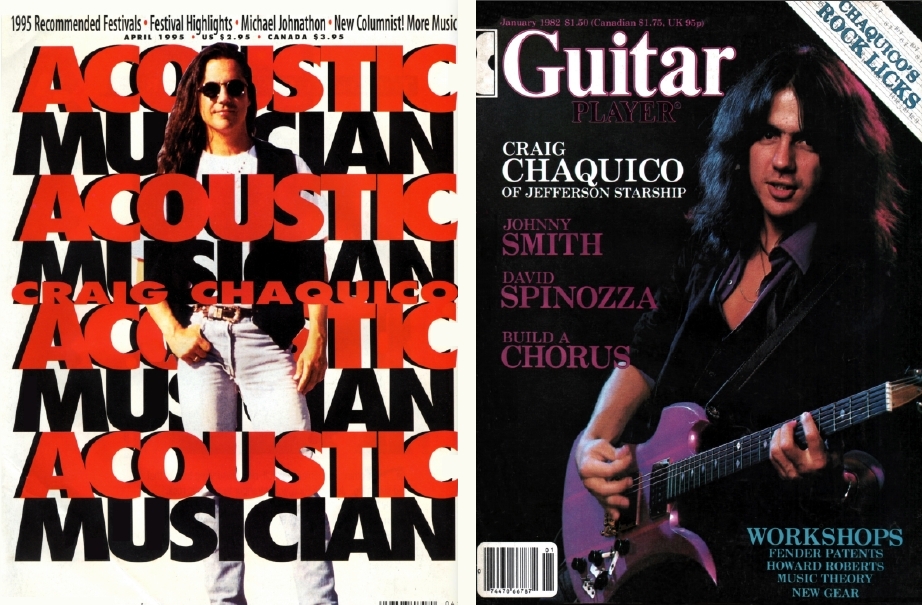 "The up tempo 'Keep on Dreamin' " […Craig Chaquico composition] reveals why guitarist Craig Chaquico is often featured in guitar magazines."– Rich Embry, Album Review 1982
"Caig Chaquico's guitar riffs were just as stunning…"– Tim McGraw, reporter
"Chaquico is a flashy, facile and fast player."- Sandra Kreiswirth, Entertainment writer
"Lead guitarist Craig Chaquico, hefting a variety of guitars, delivered precise and punchy licks that were understated enough to avoid the boredom constant doses of heavy rock sometimes brings."– Dan Close, staff writer
"Guitarist Craig Chaquico was an electric show of jumping onto speakers, but most band members lacked his energy."– Kim Brewer, staff writer
"Perhaps the most energetic member of the group was lead guitarist Craig Chaquico, who grinned his way through most of the set like a junior Ozzy Osborne and delivered some of the hottest licks."- Gene Stout, staff reporter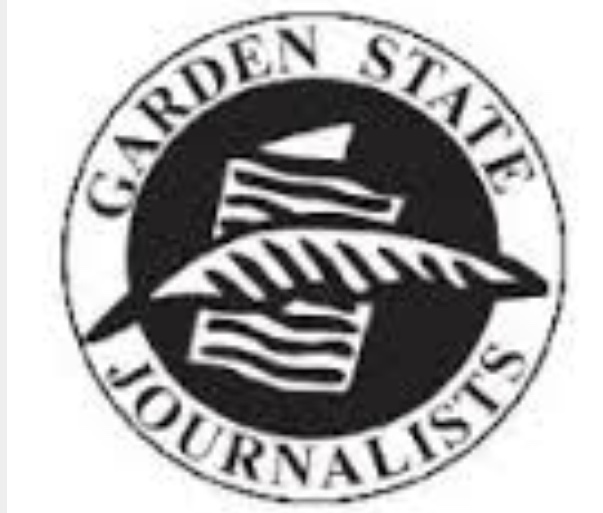 "Chaquico is some kind of hot dog.  During the show, he played his guitar in a variety of places including turned sideways, on his side, behind his head, and seemingly with his teeth.  He ended many songs jumping in the air and kicking back."- Steve Libowitz, Garden State Press
" 'Girl with the Hungry Eyes' was performed next, during which Craig Chaquico jammed while running in place, driving the crowd wild."– Trine Gallegos, staff reporter
"Jefferson Starship, a band with nearly 20 years of experience under its belt, was all any crowd could want… Lead guitarist Craig Chaquico led into the piece with a solo impressive for its delicacy, intricacy and technique.  He simply pressed his fingers against the strings on the neck, never bothering to pick or strum.  And while the technique may have smacked a little of gimmickry, it did nothing to lessen the impact."– Martha Sullivan, Pantagraph staff
"Craig Chaquico's guitar playing continues to exhibit an uncanny ability to project the dynamics of heavy metal without any of its jarring side effects."– Donald Wilcock, staff reporter

"[Starship] …continues to fly on multi-part harmonies and the soaring lead guitar of Craig Chaquico."– Barney Parker, Kansas City Times
"Chaquico is exceptioal on this number" -Trine Gallegos talking about song "Light the Sky on Fire"  [Craig Chaquico composition also featured in the cult classic StarWars Holiday Special]
"Chaquico, one of the most dynamic lead guitarists in the business…"– Randall Beach, Entertainment reporter
"The band came ready to jam, as guitarist Craig Chaquico soloed wildly over the charged-up group sound on the pounding rhythm of 'We Built This City.' "– Edmund Barksdale on performance at Pensacola Civic Center
"Guitarist Craig Chaquico had a wild time, jumping and stepping through a series of blistering leads.  Chaquico has shed the high, thin sound of his earlier days for a harder edge, and it is adding a new urgency to the music." – Jon Moran, staff reporter
"Shortly after, the group disappeared from the stage as chants 'MORE! MORE! MORE!' and 'STARSHIP! STARSHIP! STARSHIP!' quickly filled the void.  The first to return was guitarist Chaquico, who picked up his axe and proceeded to do a rather melodic solo.  The solo soon turned into a marching dirge which the crowd immediately recognized as the beginning of the group's most beloved song- 'White Rabbit' " – Tom Lounges, Night Rock
"I don't mind when critics put down our music by saying it sounds like Styx or Journey or Boston or Aerosmith….those are my favorite bands" – Craig Chaquico, In a Rolling Stone interview
"Chaquico's devotion to wheeling it is complete.  He told Rolling Stone his fantasy is to have Road Rider skateboard wheels on the back of his guitar so he would be the fastest player in the world."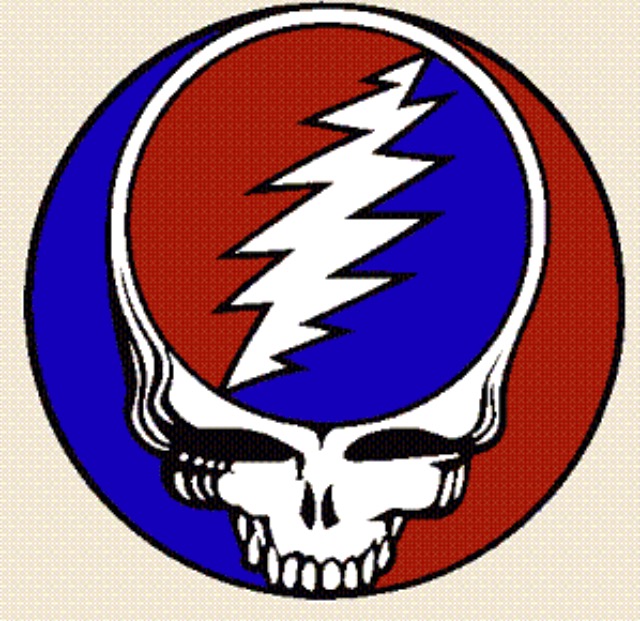 "We still recognize a need to return some of the energy we've gotten from the audiences, were still trying to make things better, even though that sounds corny. We like to do things that are constructive."– Craig Chaquico, commenting on a benefit concert with the Grateful Dead  for Vietnam Era Veterans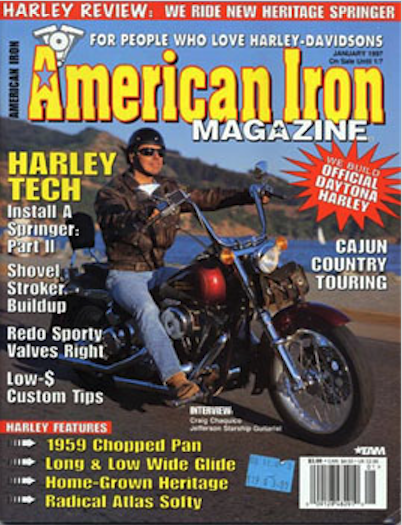 "Craig Chaquico, who is at heart really a Heavy Metal Kid, revels in the production environment that allows him to constantly stretch out on guitar.  But he admits, 'To me the studio's a pain in the ass. It's like having your motorcycle apart, with the parts lying all over the garage and your readin' the manual going, 'How am I going to get this to work?' But once the [bike] is done, being on the road is like cruising down the freeway at 100 miles an hour with the wind blowin' in your hair.' "–  Dave Zimmer, on Jefferson Starship, 1981
"It's a very loose-knit family organization. We might be one of the last family type bands"– Craig Chaquico

"His mother had first bought him a ten-dollar acoustic guitar when he was only ten.  He started playing it around the dairy farm where he was raised.'I was always playing it',  he enthusiastically recalls.  'I mean, constantly.  My fingers would get all messed up,  and I'd still be playing it.  Even when I was involved in a unfortunate automobile accident [Fatality alcohol-related car crash when Craig and his father were hit by a drunk driver] where I broke my arms and my left leg and was completely incapacitated in the hospital, I had them bring my guitar to me'."  – Craig Chaquico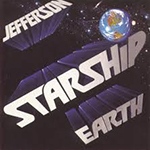 "At age 22, Craig Chaquico is the boy-wonder of rock of the 1970's.  He is probably the youngest lead guitarist in a major rock band; in fact, he started playing with the famous musicians who later formed the Jefferson Starship when he was only 16, and still an honor-roll student at La Sierra High School in Carmichael, California, where he won a [modest] scholarship in art. "– Earth Album / Jefferson Starship, 1977
"It was a real trip because I was like 18 by then, you know.  These big guys started turning me on to all this vintage stuff.  They were kind enough to teach me.  In rock you can only learn from the pros.  You know, you only learn through experience, and being there with people who know.  One thing most people don't know is that being a studio musician is very demanding. It's very competitive.  I was fortunate at being introduced at a young age." – Craig Chaquico
I wasn't considered competition, and therefore I was accepted by the real heavy cats.  They enjoyed showing me stuff because I was so young and eager to learn.  I was not on a big ego trip.  They took me under their wing, and showed me so many things that would have been really hard for me to discover on my own"– Craig Chaquico, on being taught by the heavy cats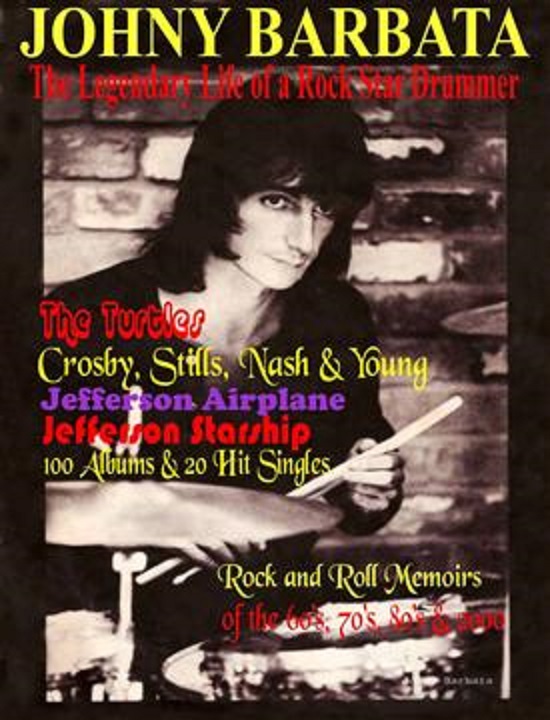 "I think he's good, he'll be even better when he gets older."– John Barbata, legendary drummer and original founding member of Jefferson Starship [John Barbata also toured and recorded with CSN&Y,  Jefferson Airplane,  The Turtles as a recording and touring bandmember,  recorded with Graham Nash,  Neil Young,  Stephen Stills,  Lee Michaels,  Linda Ronstadt, Everly Brothers,  and more,  played drums on over 100 albums & 20 Hit Singles]
 
CRAIG CHAQUICO

 – Multi-Platinum Grammy Nominated  Billboard #1 ARTIST & BANDLEADER (

1990-2015)
"

After years of arena rock, Chaquico has more or less reinvented himself as a new-age guitarist, and a successful one at that, as his No.1 albums and Grammy awards [nominations] attest."- L.A. Life
"

Inspired by the natural environment and respect for Native American culture, Chaquico has developed a pastoral sound that has earned him legions of fans."– Bill Kohlhaase, L.A. Times, 1996

"Sure you can take the boy out of rock n' roll, but you can't take rock n' roll out of the boy.  That was the moral of last night's "Smooth Jazz" performance by Craig Chaquico, former guitarist with Bay Area rockers the Jefferson Starship."- Steve Morset, Boston Globe

"The guitarist, who was a member of Starship, carved out a niche in the 90's as one of the main players in smooth jazz, popular on record and popular in concert."- L.A. Jazz Scene, 2000
"All the chosen songs are worthy and have no doubt been played over and over again by fans."–L.A. Jazz Scene, 2000 on "Panorama"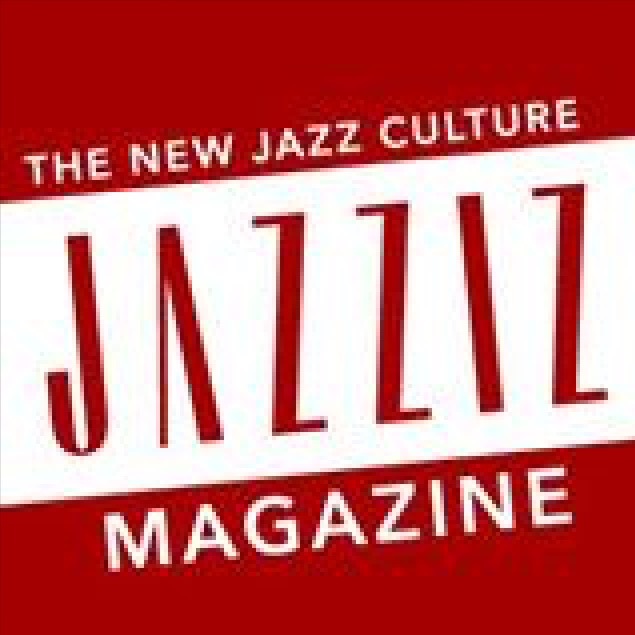 "Craig Chaquico's blend of snappy guitar melodies and subtle Native American- influenced textures contributed something of a spiritual nature to the smooth jazz."-JazzIz Magizine, 2000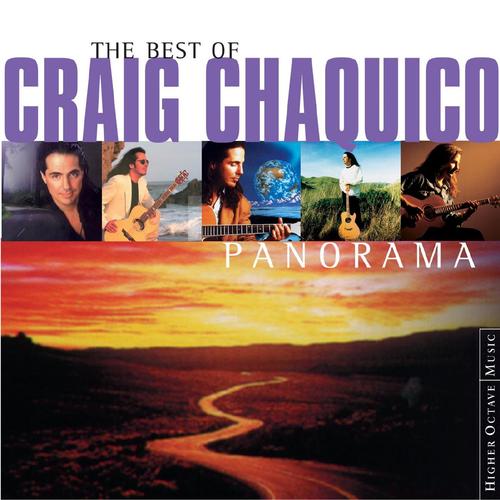 "Chaquico improvises easily over the hypnotic grooves of the 3rd force on 'Beyond Words', then lets his strings dance over the fiery brass and explosive percussion on 'Café Carnival'.  On that track, Chaquico harks back to his days with Jefferson Starship, unleashing an extended rock solo."– JazzIz Magazine, 2000 on "Panorama"
"Guitarist Craig Chaquico had a strong 16-year run as lead guitarist for Jefferson Starship, the multi-platinum rock band.   Now he's gone acoustic, contemplative, and writing tunes about the beauty of the natural world-and the success he enjoyed as a rocker continues on today, despite the radical change in genre."- Jay Blakesberg, Jazztimes 1999
 "With a fine rock lineage and a relentless work ethic to boot, guitarist Craig Chaquico is one of the great sales success stories behind Smooth Jazz."– Higher Octave Music, 1997
"Chaquico plays acoustic guitar with such profound skill that he makes it look and sound easy."-Higher Octave, 2000
"I knew from the first time I saw Craig Chaquico during the Guitar & Saxes Tour in June last year, that the musician was special.  His music practically oozes from every pore of his being." – Bobby Speed, Higher Octave Newsletter
"Chaquico's compositions are not the sort that induce narcolepsy or leave you wondering if your CD player has been repeating the same track for two hours.  This music commands attention"– Greg Pederson, Higher Octave Newsletter
 Many smooth jazz listeners grew up listening to him.  His own evolution from electric guitar kid playing in clubs at 14, to the smooth acoustic adult he has become-perfectly paralleled the changing musical appetites of his fans."– Melanie Maxwell, Smooth Jazz News

"Anyone who has seen Chaquico's live performance can sense that he embraces life and his inspirations.  He absolutely loves to give, whether it is entertaining the crowd at a sold-out concert, or an impromptu performance for terminally ill children at a local hospital."–  Jonathan Widran & Melanie Maxwell, Smooth Jazz News

"Radio couldn't play the song enough, [Cafe Carnival] and audiences went crazy, most likely reminding them of Chaquico's solos on Starship classics like 'Jane' and 'Find Your Way Back'. "– Melanie Maxwell, Smooth Jazz News

"His snappy, seductive and instantly identifiable guitar lines had become a staple of the genre's sound."– Melanie Maxwell, Smooth Jazz News

 "Chaquico doesn't completely discard the rock n' roll esthetic.  It's still part of his music.  And though his most recent albums don't feature screaming power chords and driving beats, he still rides his Harley and strums to his life's content."– Scott Iwasaki, Desert News 1996

 "From electric guitar rock god to newfound fame in the 'adult contemporary' field, Chaquico has proven formula for success."– Scott Andresen, Iowa State Daily 1995

"Remember when you were a kid and, in a moment of open-hearted joy, you'd spin around, stare into the sky and watch the sun glint through the leaves and the clouds billow overhead?  Guitarist Craig Chaquico recreates that sensation with sparkling, energetic, yet bountifully calm instrumental compositions that overflow with the bliss of being alive."– B.J Huchtermann, Omaha Reader, 1996

 "Chaquico's style has an extroverted, starburst sound-like horses galloping by or eagles soaring over New Mexico pueblo."– Lee Kelemen, St. Louis Post 1996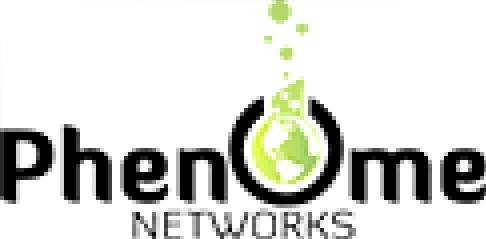 "Chaquico's performance is technically outstanding, clear, and precise.  The plucks and strums of his guitar strings seem almost to jump out at you within the stereo field."– Michelle Kiernan & Jim Johnston. PhenomeNews
"The net effect of such precisely conceived and executed sound is quite intoxicating; for listeners suffering from anxiety it might prove to be the perfect relaxant."– Holding Together Issue #19
"Chaquico, a consummate guitarist, proves that there is life after the stadiums are empty and the 'fat lady' has sung."– Rapport 1996
"As the middle age comes to us all, Chaquico has left the rock wars behind and created a new career in the new age land.  His most introspective and accomplished work in this genre to date, this is the kind of set that's a real trend setter.  Hot stuff."– Midwest Record Recap on album "A Thousand Pictures"

 "Craig Chaquico made a name for himself as the fast-fingered, high-volume, teenage guitar sensation with the legendary Jefferson Starship.  Today he's flying high with smooth, soothing acoustic jazz."-David Yonke, The Ohio Blade, 1995 


"Former Jefferson Starship guitarist Craig Chaquico is gutsy but precise, his blazing riffs as sharply focused as a National Geographic photo."– The Post and Courier, 1994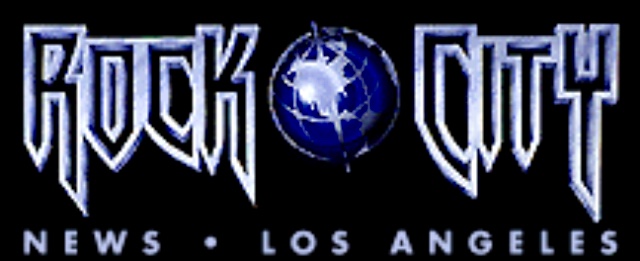 "His warm kindness persuaded me to attend his acoustic show, where his music proved to be just as sincere and heart-warming as his persona."– Rock City News 1995

"Craig Chaquico has made the improbable journey from lead guitarist in the Jefferson Starship to the pinnacle of the New Age chart."- Jon Sievert, GuitarPlayer, 1995

"His feelings about everything really shine through his compositions and playing."– Vintage Guitar 1995
"Chaquico has proven himself to be a fine writer, coming up with hummable and memorable melodies that stick in your head for days after you hear them."– Vintage Guitar 1996

His first two albums, 1993's Acoustic Highway and 1994's Acoustic Planet, both topped Billboard's New Age chart…"– Guitar World Acoustic
"Whether you liked him as a rocker in the old days or not, Chaquico's pure dynamite now."– Jonathan Widran, on album, A Thousand Pictures
"This ex-Star ship guitarist has become a creative force in the smooth jazz realm, but his third instrumental offering is more than just melodies and rhythms, as each tune seems to convey a spiritual image."– Jonathan Widran on album A Thousand Pictures
"Chaquico, former lead guitarist for the legendary Jefferson Starship, does for new age guitar what Yanni does for new age piano: he makes the instrument the device for telling a story.  At times excited and lively, at others reflective and passionate, Chaquico's guitar weaves a fascinating tale for each song, making each pleasurable ride san lyrics."– MCR, Rock Love, 1997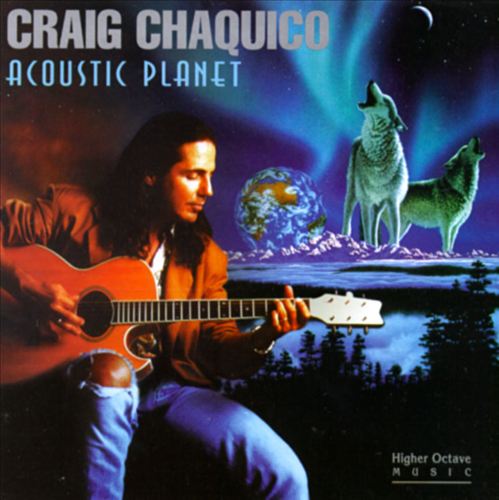 "This is fine music produced by musicians who have honorable goals and intentions where their music is concerned.  If you like New Age, Adult Alternative or just plain ass-kickin' acoustic guitar playing give 'Acoustic Planet' a try."- Michael J. Urness, The Current 1995
"I've seen how music can help people get out of the four walls of a hospital and explore their imagination."– Craig Chaquico, on musical therapy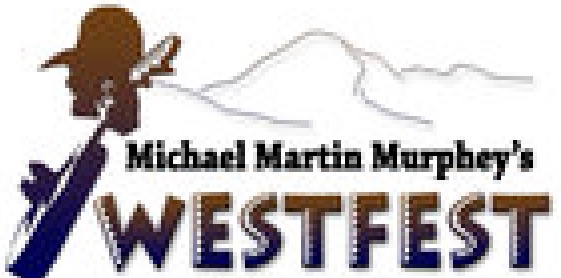 "Chaquico uses his acoustic melodies to help people.  He travels to hospitals across the country and assists with 'music therapy'. He works with the National Association for Music Therapy to arrange mini-concerts for patients."– Kathy Lee, reporting on WestFest in Vail, 2001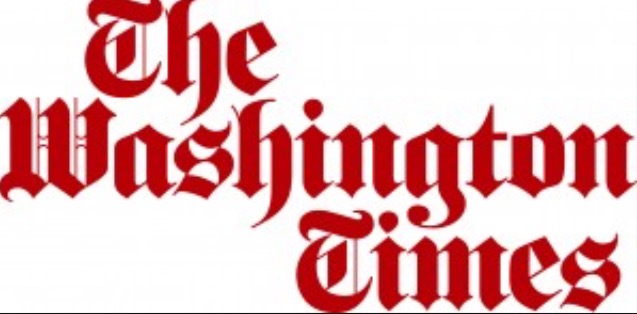 "More than awards and the chart success, what really means a lot to me is when people tell me the music has touched them in some way, whether it gives them goose bumps, makes them smile or brings a tear to their eyes.  It's important to me to reach people whether it's in a hospital setting or a concert setting." –Craig Chaquico on Music Therapy featured in Washington Sunday Times

 "We find this music on sacred common ground somewhere between math and mystery, karma and coincidence, and time and timelessness.  The right music changes daily rush hour traffic into a beautiful ballet of dancing vehicles and colors.  The right tunes magically massage hustle and bustle into a lot less hassle and wrestle." –Craig Chaquico, New Age Retailer 2000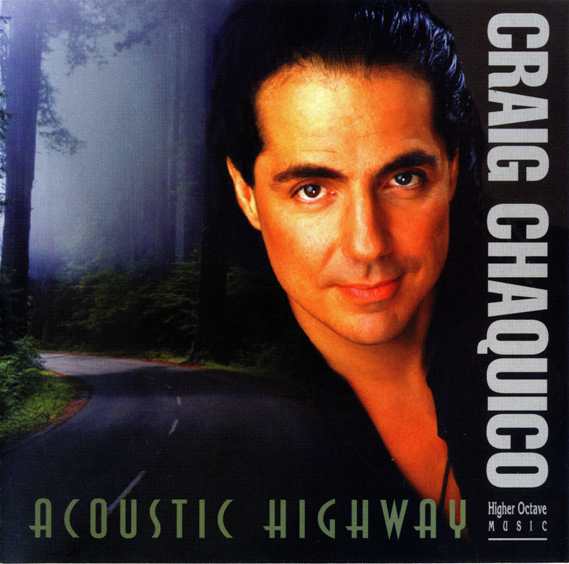 "Maybe New Age is like one of those scenic exits you see on the highway promising to be a beautiful alternative route, if only you had made the choice to take the time and check it out.  Here's my advice: Take the ride on the acoustic highway, and let the magic unfold before you."–Craig Chaquico, on album "Acoustic Highway"
"When it really boils down to it, maybe it's what you play and how you connect with the audience?"– Craig Chaquico  2015
 
CRAIG CHAQUICO – FIRE RED MOON Debuts Top 15 BILLBOARD Blues Chart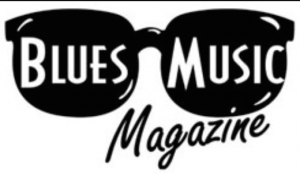 "Chaquico, who came of age in the polyglot-rock atmosphere of turn-of-the-1970s San Francisco, clearly has a deep affinty for blues and rootsier music, as well. Chaquico stakes his claim in yet another musical genre, and even though he just arrived, already sounds right at home. "– Blues Music Magazine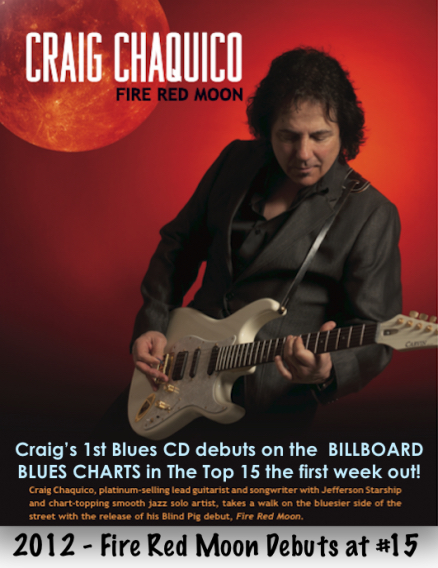 "Great album… Smokin 'Lie To Me' last Sun­day and again this week"  – Rick Ballew – WRFX – Smokin' Blues — Char­lotte, NC
"Craig is one of THE local suc­cess sto­ries, along with Tim­o­thy B. Schmidt of the Ea­gles, Steve Perry of Jour­ney and the guys in Tesla"   – Mick Mar­tin – MICK MAR­TIN'S BLUES PARTY– KXJZ – An­te­lope, CA
"Craig's gui­tar play­ing is fan­tas­tic, and there's a in­stru­men­tal (Track 8?) I'm es­pe­cially found of. "  – Paul Wells, The River, The Lob­ster Sun­day Brunch- San Fran­cisco, CA
"I love it! Craig kicks ass (as al­ways) on this-get­ting Noah to sing on the one tune was a cool idea"  – Mark May­field –KSLX , Morn­ing Show,  Phoenix, AR
"Lis­tened to the album like I said I would. All I can say is that I was 'awestruck'. Nor­mally. I do not put an en­tire album in our on-air li­brary, but Fire Red Moon was well worth putting all in"  – Norm Brown­ing – KKFI – Kansas Cit, MO
"Just wanted to let you know that the Craig Chaquico CD 'Fire Red Moon' came in & it sounds great! Just what I want for my show!  – Mike Lytle – KKFI-Kansas City, MO
"I played it and talked it up. You can hear it on KPFA.org  last Sat.'s show.  Very good debut"  – Tom Maz­zolini – KPFA – Blues By The Bay – San Fran­cisco, CA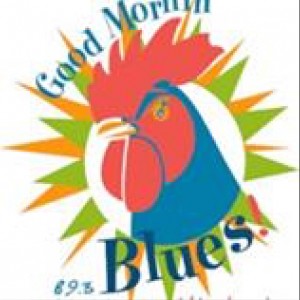 "I think it is my new fa­vorite CD.  It is very good, a lit­tle dif­fer­ent.  He is so tal­ented. We have been play­ing it" – Bill & Pat Hud­son — The Blues Team —  Good Morn­ing Blues II  WRFG 89.3 FM At­lanta, Geor­gia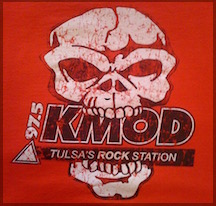 "That cat can still belt out the tunes!! Great album" – Paul Rowlett – KMOD – Smoke­House Blues Show, Tulsa, OK
"I got 'Fire Red Moon'. Great stuff, fan­tas­tic gui­tar. Fa­vorites in­clude 'Lie To Me', 'Rollin' And Tum­blin' (fab­u­lous), 'Fire Red Moon' and my ab­solute fa­vorite 'Fog­town Stroll' " – Billy Rose  KROS –The Big Blues Broad­cast –Clin­ton, IA
"Got it, heard it, played it.  It's awe­some!"  – Michael Right –KXRA –Nothin' But The Blues, Alexan­dria, MN
"Love it!  I've been a Craig Chaquico fol­lower for years, I'm a big smooth jazz fan.  I al­ready have 'Born Under A Bad Sign' in the Blues Power ro­ta­tion, and will be show­cas­ing a at least 2 more tracks in the fu­ture"  – Michael Goza –WQNA – Blues Power – Spring­field, IL
" It's awe­some!" – Sheila Cain — Blues City Radio – Long­mont, CO
"Re­ceive and LOVE the CD. Have been a big fan for years" – An­thony De­Fazio,  H. Hawaii Media/Kauai
"Yes, love it.  I'm hit­ting 'Lie To Me' and  'Born Under A Bad Sign', right now. But, this is a CD that I'll be play­ing all the cuts even­tu­ally" –Ken Love­joy – WBCG – Blues Beach – Port Char­lotte , FL
"I have it and I love it!"  – Holly Har­ris – WBOS BLUES On Sun­day, Salem,MA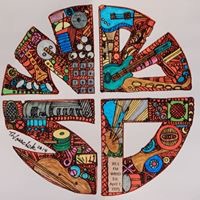 "Craig's new disc is great. I will be fea­tur­ing it soon and will chart it as well"  – Mike Urick  Blues After Hours, WBSD, Burling­ton Wi  
"Yes, just picked the CD up yes­ter­day and lis­ten­ing to it now – love the sound – great pro­duc­tion!"  – Butch Kara — KZGM FM – KALEI­DO­SCOPE– Ca­bool, MO
"We re­ally like this CD – Craig plays like a pro with a very crisp, clean sound and dri­ving beat.  Very good!" – Todd and Cyn­thia Hines –KVNF – Craw­ford, CO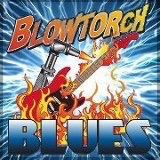 "Just had a great big help­ing of pork! [Blind Pig Records Catalog] Re­ally en­joyed the Craig Chaquico! " – Ted Todd – Blow Torch Blues – KKZX – Spokane, WA
"Yes, Ex­cel­lent!" –  Kevin Hen­drick­son  KJKJ -River­side Blues Show –Crook­ston, MN
"PLAY­ING TRACKS 3&8 AND RE­ALLY HAPPY WITH THE NEW DI­REC­TION HE'S GOING IN"  – Carol Han­d­ley, In­ter­net radio, Smooth in Seat­tle, Seat­tle, WA  

"Great stuff"  – Kevin Barnes – Bluesville –  KBEM, Min­neapo­lis, MN
"Wow great stuff..that fits our style..tks..will be play­ing dur­ing our show and will also be loaded into the au­toma­tion pro­gram that plays music dur­ing off pro­gram­ming hours" – Patrick Henry – KYRS, Blues Now and Then, Spokane, WA
"I added Craig's New CD Nov 3. I have en­joyed "Lie to Me"and find my­self re­turn­ing to it…"  – Jim San­tella, WBFO – The Blues,  Buf­falo, NY
"YES! I've been play­ing it for weeks now and re­ally like it! Love the in­stru­men­tals and the rock­ing ' Lit­tle Red Shoes' or what­ever ( just off the top of my head!) GREAT CD!…"  – Cheryl Mogul – WMNF –  Sat­ur­day Soul­ful Soiree – Gulf­port , FL
"Sounds good, I've played the title track and 'Born Under A Bad Sign' over the past cou­ple of weeks"  – Dave Isaac – WKIT – Blue Mon­day, Ban­gor, ME
"Great CD like the first song for air­play es­pe­cially ['Lie To Me']"  – Scott Fra­ley – OUT O' THE BLUE RADIO REVUE – WCVE – Rich­mond, VA
"I will be work­ing on mak­ing sure his spins are in­creased be­cause it is a very pro­fes­sional album in every re­spect…"  – Sam Reese – Fresh Cuts – WXCS 92.9FM   Cam­bridge Springs, Penn­syl­va­nia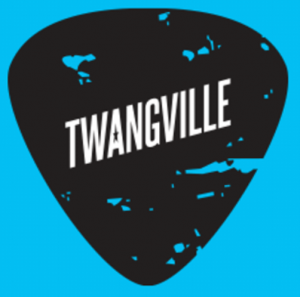 "Craig Chaquico has made the transition from ethereal to earthy in his first blues album. On Fire Red Moon, Chaquico shows that he can master the blues. If he continues to pursue the blues he will fast became a fan favorite." – Twangville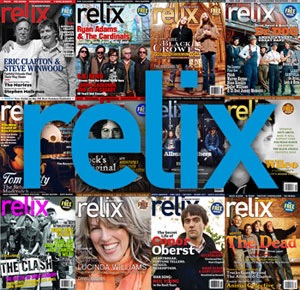 "On Fire Red Moon, it's full-on kick ass time again. The blues-heavy set features vocalist Rolf Hartley wailing on a mix of tunes co-penned by Chaquico and-standard-but-never-old covers like "Born Under a Bad Sign", "Rollin' and Tumblin" and "Crossroads." Those who miss his softer side can find traces of it in the instrumental "Blue on Blue," but Fire Red Moon leaves no doubt that this always-masterful player has returned to plugged-in mode for real."– Relix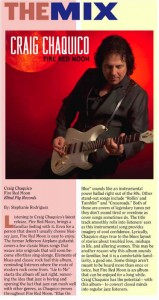 From the first few measures of Craig Chaquico's new CD, Fire Red Moon on Blind Pig Records, you can in­stantly tell he is from the West Coast. Imag­ine if Steely Dan or the Ea­gles de­cided to make a blues CD and you'll have a good idea of the over­all sound and feel, and yes, this is a blues CD. All you staunch blues purists can move along, there is noth­ing for you here. But for those of you, like my­self, who be­lieve that a mu­si­cal genre is like a liv­ing, breath­ing or­gan­ism and must con­stantly evolve and grow to stay fresh and vi­brant, then this is def­i­nitely a CD for you!Craig Chaquico has a long and sto­ried ca­reer as gui­tar player. As an early '70s teenager in the San Fran­cisco area, he often ap­peared on stage and in the stu­dio with the likes of Car­los San­tana, The Grate­ful Dead, David Crosby and the Jef­fer­son Air­plane. When the Air­plane re­formed as the Jef­fer­son Star­ship he was asked to join the band.  After a long run, in­clud­ing 20 gold and plat­inum al­bums, the band even­tu­ally broke up. Chaquico then moved on as a solo artist per­form­ing a jazz/new age style of music, re­leas­ing an­other 10 al­bums and a re­ceiv­ing a Grammy nom­i­na­tion. He's ob­vi­ously not a new­comer.  As for his pro­gres­sion into the blues, in a re­cent in­ter­view Craig Chaquico said, "If it wasn't for Jef­fer­son Air­plane, Jef­fer­son Star­ship, Star­ship, my solo ca­reer, I wouldn't be able to do a blues record now, which is my lat­est record and the one I'm most proud of.  My mu­si­cal ca­reer re­ally is the same road but on dif­fer­ent scenic turnouts–the rock 'n' roll and then the new age jazz and now the blues. That's where I am now on my mu­si­cal jour­ney."
The CD opens strongly with Chaquico's "Lie to Me" fea­tur­ing the deep, husky vo­cals of Noah Hunt from the Kenny Wayne Shep­hard Band on vo­cals. The groove is in­fec­tious with the un­mis­tak­able West Coast feel and Chaquico's jazz in­flu­ence through­out.  His well-crafted orig­i­nal,"Devil's Daugh­ter," fol­lows with the re­mark­ably high tenor of Rolf Hart­ley soar­ing on vo­cals. Again this song, arrange­ment and per­for­mance could eas­ily show up on an Ea­gles album, and that's not meant in a neg­a­tive way at all.
Fire Red Moon fea­tures sev­eral in­stru­men­tals — a plea­sur­able change from most blues re­leases.  Chaquico takes "Born Under a Bad Sign" to a uniquely dif­fer­ent place as an in­stru­men­tal that re­ally shows off his gui­tar play­ing. I'm sure Al­bert King and Booker T Jones would ap­prove!  Muddy Wa­ters' "Rollin' and Tum­blin" and Robert John­son's "Cross­roads" get sim­i­lar treat­ments with Rolf Hart­ley's ex­cel­lent vo­cals adding to the lat­ter. One of my fa­vorites is "Lit­tle Red Shoes" an ex­cel­lent Chaquico-penned song with some fine gui­tar play­ing that is just an out­right fun tune.  My other choice pick is "Fog­town Stroll," an in­stru­men­tal with that ob­vi­ous West Coast feel, plus some tasty B-3 organ mov­ing along be­hind Chaquico's won­der­ful gui­tar.
This is not a typ­i­cal blues record by any means, but as Chaquico's mu­si­cal jour­ney has evolved over the years, he has brought all those in­flu­ences and ex­pe­ri­ences with him, mov­ing both his ca­reer for­ward and tak­ing the blues to a new and in­ter­est­ing place!  – Larry Schara, 40 year music in­dus­try veteran as a mu­si­cian, en­gi­neer, pro­ducer with 9 Grammy nom­i­nated cred­its, gold records and a fond re­mem­brance of work­ing with Ray Charles, B.B. King and Chuck Berry among oth­ers.