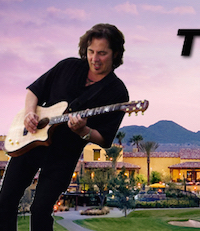 The Good Life Festival
Date:

January 28, 2012

Location:

San Tan Valley, Arizona

Venue:

Encanterra Country Club

The Good Life Festival series continues at Encanterra – the perfect venue in the Southeast Phoenix Valley – on January 28, 2012 as we presented Wine & Jazz Starring Craig Chaquico. 
Fine wines and international craft beers were featured for tasting. Wine Passports for tastes available for sale. Gourmet Food available for sale. The venue at Encanterra was designed specifically for live music events and is celebrated for its unique bowl profile and outstanding sound quality.
Craig has engaged and inspired two generations of pop music fans, first as a founding member, lead guitarist, and a prolific principle song writer for the multi-platinum Jefferson Starship/ Starship – '70s, '80s, '90. While others came and went Craig is the only person in the band to appear on EVERY recording, tour, MTV video, album, CD, and hit song during that time.
With 20 Gold records combined between Jefferson Airplane, Jefferson Starship and Starship, Craig was instrumental in making that combination one of the most successful bands in history.
http://www.Encanterra.com, Encanterra at (480) 677-8000.
Encanterra Country Club, 36460 N Encanterra Dr, San Tan Valley, Arizona 85140