Holiday
Release date:

October 25, 2005

Label:

Higher Octave

Catalog #:

11681
Purchase a Holiday CD Personally Signed by Craig!
Tell Craig how you would like him to sign your autographed CD, then click the BUY NOW button to complete your purchase at PayPal. Thank you!
$25.00 + 5.00 S&H = $30.00
---
Review by Paula Edelstein [-] www.allmusic.com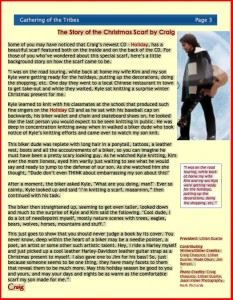 As a Grammy-nominated guitarist and former member of the pop/rock group Jefferson Starship, Craig Chaquico has made quite a name for himself. With 20 gold records to his credit and a slew of successful new age and adult alternative hits, Holiday, Chaquico's first ever Christmas CD, spells success in a new musical genre. The recording showcases his legendary musicality and innovative crossover style on both seasonal favorites and inspired originals. In addition to the innovative musical interpretations, the artful lenticular CD cover doubles as a die-cut Christmas tree ornament! A new rendition of "Winterflame" is a standout in a three-song medley, while such favorites as "Angels We Have Heard on High," "God Rest Ye Merry Gentlemen," "Silent Night," and "White Christmas" get complete jazz/rock fusion makeovers that draw upon Chaquico's world of influences. "Nonesuch/Ladies Bramzel" features students and a teacher from the Siskiyou Waldorf School in a harp, vocals, and violin ensemble in which Chaquico plays piano. This is among the more enthralling songs on the program and could quite easily become a favorite in youth ensemble repertoires. Overall, Chaquico totally captivates his listeners with the intensity of his guitar and the
new arrangements of traditional holiday music.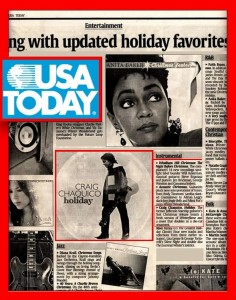 Customer Reviews
4.0 out of 5 stars
Format:Audio CD|Amazon Verified Purchase
I bought the CD for my boyfriend, he is a big Craig Chaquico fan… but what actually happened was that I listened to it more than he did. Its fun and different, not your traditonal Christmas music
5.0 out of 5 stars
For a nice easy-to-listen to presentation of Holiday music, this is it!
These days, much of the holiday music gets too repetitous. I did not get tired of this CD!
As a matter of fact, I gave some of this music to my dental assisting students.
N.Kehr
Perhaps

"Holiday"

is the quintessential CD that stands out from other run of the mill holiday season CDs in that it breaks new ground with its innovative arrangements and unique variety of sounds. This will be the Yuletide CD that you'll want to listen to over and over and over again. By creating the sound and feeling that Craig was sitting in your living room playing the acoustic guitar in front of your fireplace at your own private holiday event, and then some songs with a few additional acoustic players who happened to show up at the party, to some songs where you are sitting in the front row of a full blown band live concert with everybody on stage in front of you, Craig Chaquico's "up close and personal" recording of classics and original material begs for more than just one listen. There is a lush intimate 10-guitar version of "Hark the Herald Angels Sing" and a full jammin' band track version of "Angels We Have Heard On High" that sounds like it was recorded during the "Return of the Eagle", "Cafe Carnival", and the"Acoustic Highway" recording sessions, with musical elements from all three featuring piano, horns and Latin percussion.
| | | |
| --- | --- | --- |
| 05:08 | Angels We Have Heard On High | Instrumental |
| 04:09 | God Rest Ye Merry Gentlemen | Instrumental |
| 07:03 | Ashes Of The Fall / Winterflame… | Instrumental |
| 07:18 | Jingle Bells / Jingle Bells (Slight… | Instrumental |
| 04:08 | Silent Night | Instrumental |
| 01:26 | Every Day's A Holiday (With You) | Instrumental |
| 02:45 | We Wish You A Merry Christmas | Instrumental |
| 02:23 | White Christmas | Instrumental |
| 02:55 | Hark, The Herald Angels Sing | Instrumental |
| 01:18 | God Rest Ye Merry Gentlemen (And… | Instrumental |
| 01:46 | Waltz Of The WInter Constellations | Instrumental |
| 03:22 | Nonsuch / Ladies' Bramzel | Vocal |
Craig Chaquico

 – 

Guitars, Production, Mixing, Art Direction, Arrangements, Piano

Ozzie Ahlers

 – 

Keyboards, Production, Arrangements

Bill Heller

 – 

Additional Keyboards, Drum Programming, Loops, Musical Arrangements, Bass, Piano and Organ on "Angels We Have Heard On High", "God Rest Ye Merry Gentlemen" and "Jingle Bells", Additional Production, Pre-Mixing

Kevin Paladini

 – 

Sax

Jim Reitzel

 – 

Bass

Wade Olson

 – 

Drums

Marquinho Brasil

 – 

Percussion

Dan Miranda

 – 

Bass on "We Wish You A Merry Christmas"

Molly McKissick

 – 

Harp

Saba Buser

 – 

Vocals, Violins

Izabel Austin

 – 

Vocals

Dan Harjung

 – 

Mixing

Trevor Sadler

 – 

Mastering

Dave Roberts

 – 

MOTU Digital Engineering, Editing, Mixing Assistance

Bruce Sullivan

 – 

Project Management, Art Direction

Jason Imber

 – 

Photography

Dessie Alexandroff

 – 

Photo Production, Design

Chris Verespej

 – 

Art Direction, Design

Tony Burkart

 – 

Art Direction

Brad Bartkus

 – 

3-D Graphic Design

Recorded at Lunatunes, Ashland, OR, OzWorld, Novato, CA, Heller Studio, Long Island, NY, Elve's Presley Studios, North Pole.Mixed at Higher Octave Music, Inc. and Lunatunes, Ashland, OR.Additional pre-mixes perfromed at Heller Studios, Long Island, NY.Mastered at Mastermind Productions, Inc., Milwaukee, WI.Hair and make-up by Marcus Geezer.