BEWARE OF FAKES!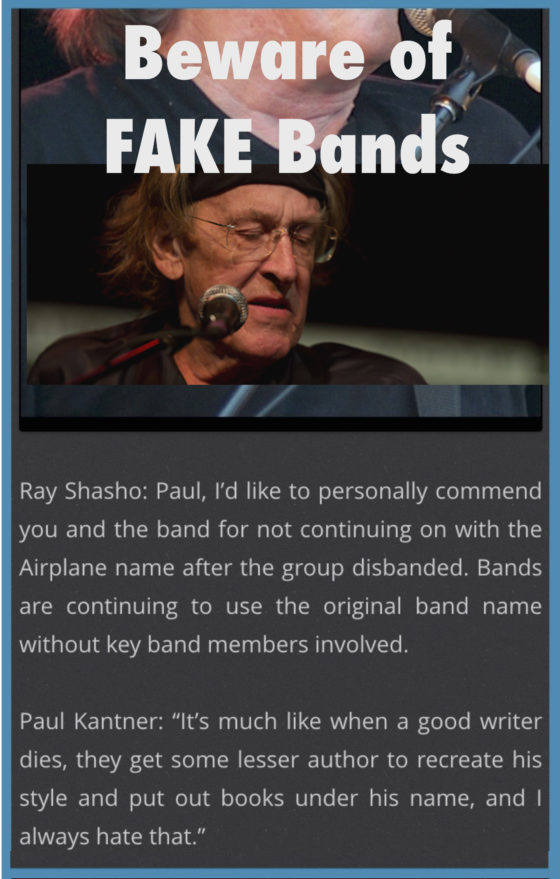 Fans should please BEWARE OF MISLEADING MARKETING AND LICENSING! Beware of any fake bands, any fraudulent misleading marketing or FAKE recordings and false advertising of the original hits being done by lesser cover bands. This confuses the true legacy of the original world-famous Jefferson Starship and Starship with lesser artists who are clearly trying to recreate the hit-making songs and styles of the original Jefferson Starship and Starship (1974 – 1990) using the name…
We sincerely apologize to all the fans who have already been duped by misleading marketing and false advertising thinking they were hearing and buying the music by the original band (1974 – 1990)  and songwriters, producers, engineers and real multi-instrumentalists, who actually made all the hit songs. Craig is especially concerned for the fans of the real recordings as he is the only one key original founding member, hit songwriter, and lead guitarist listed on everything.  Only the actual Jefferson Starship and Starship made ALL the actual hits and tours and only Craig played all the lead guitar and lead guitar solos. He should know… (1974-1990)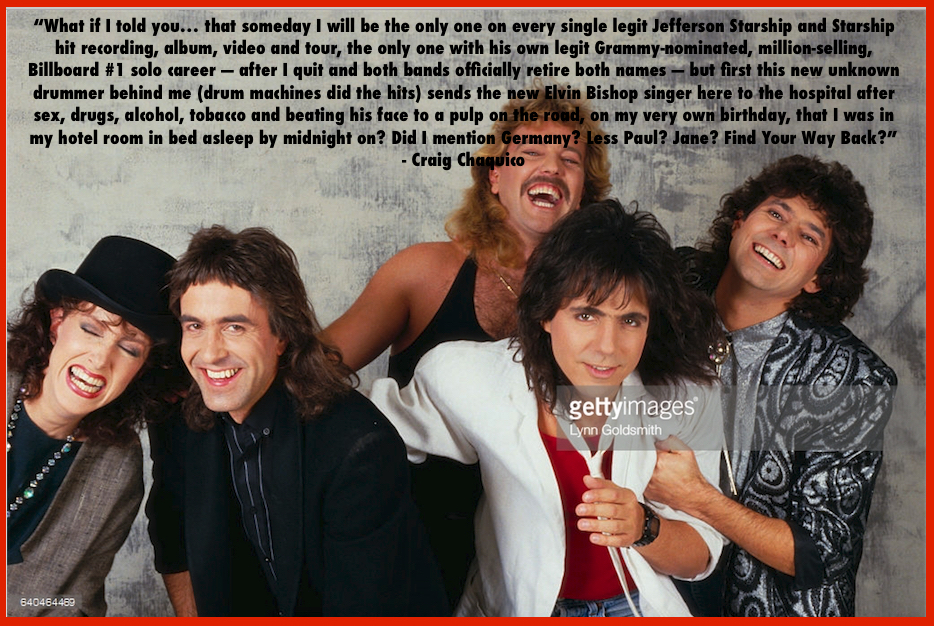 ---
BEWARE! Mickey claimed he knew nothing about any of the confusing, misleading re-recordings either, or how they happened to be re-recorded and then later passed-off again and again for years as the actual Jefferson Starship and Starship.  That is actually what Mickey said after releases were investigated that may include all this bogus material. He said he had no idea or any control over any of this either!  So BUYER BEWARE!  Spread the word!  Perhaps these products are another Chinese, Russian, Egyptian or Cairo hack.
---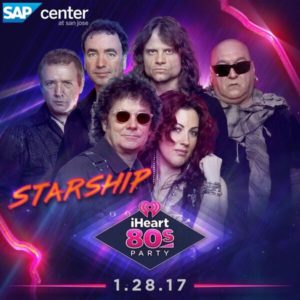 True fans of the actual original Jefferson Starship and Starship (1974-1990) should please BEWARE of any new fake misleading or "look-alike" advertising. Shop and compare to find the actual original STARSHIP.
Fans of the original music of Starship note that there is no Grace Slick or Marty Balin in any  current line-ups either. Now touring is only one of the great singers, with his own various cover band musicians and singers without any of the other original STARSHIP hit singers or band members, who actually wrote and recorded all the hits of the '70s and the '80s.  Craig is the only person to actually perform on every original hit ever made by both the JEFFERSON STARSHIP and STARSHIP bands during the '70s and the '80s.  Shop & Compare…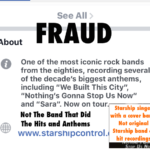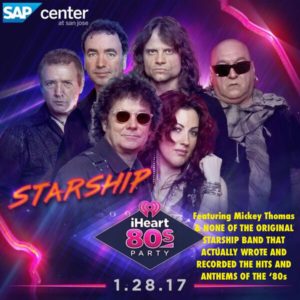 ---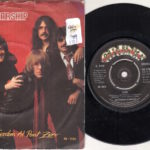 ---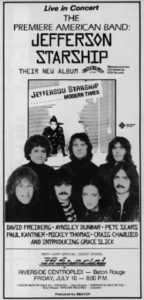 (Re) Introducing GRACE SLICK (One song on Modern Times)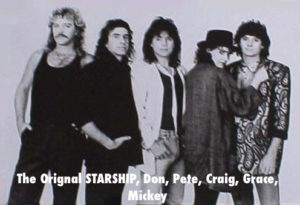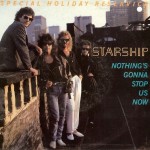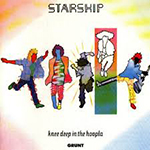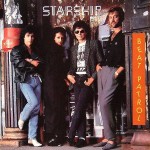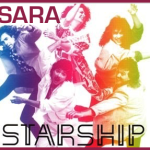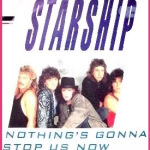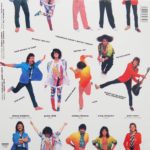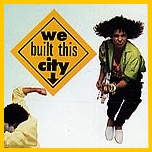 ---
Besides Rolling Stone naming Bob Dylan and Bruce Springsteen as Artists of the Year in 1975, and Elton John's "Philadelphia Freedom" as single of the year, Rolling Stone proclaimed Jefferson Starship's Red Octopus as an Album of the Year with this comment, "Red Octopus – The return to Jefferson Starship of Marty Balin as songwriter and singer and the emergence of guitarist Craig Chaquico resulted in the finest San Francisco music since the heyday of the Haight"
Craig Chaquico is the only one original founding member, and the only lead guitarist and hit songwriter, to appear on every hit recording ever done by the original Jefferson Starship and Starship bands who actually recorded the hits and anthems of the '70s and '80s. After Craig left there were no more hits so both world famous bands officially disbanded. The Starship name was officially retired,   and in 1985 everybody legally agreed to never use "Jefferson."
---
In 1993 Craig was the first one to reconsider to allow only Paul Kantner to use "Jefferson" and only for Paul Kantner's personal solo projects.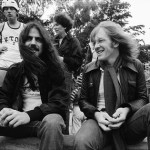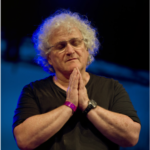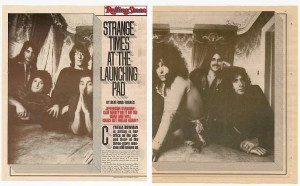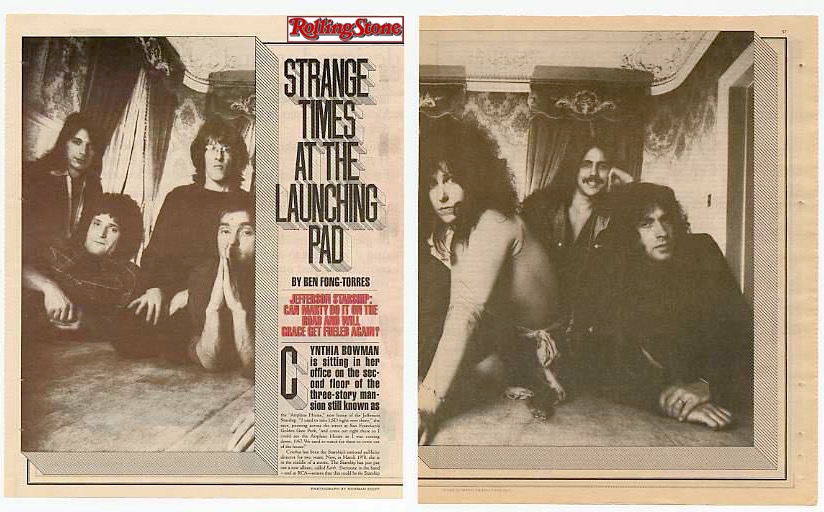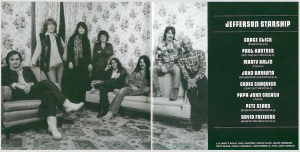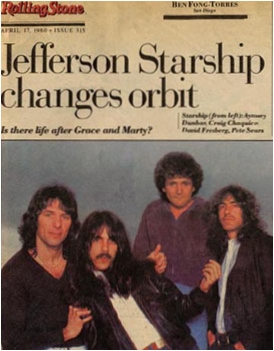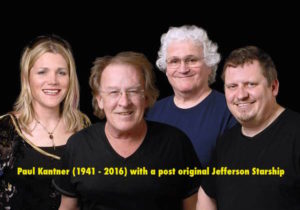 Paul and everybody else had agreed that nobody else could ever use the "Jefferson" name for anything if it didn't include both Grace and Paul.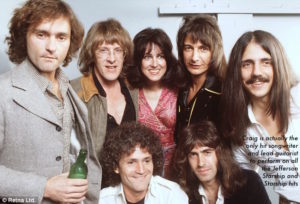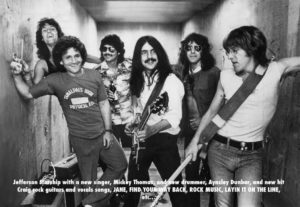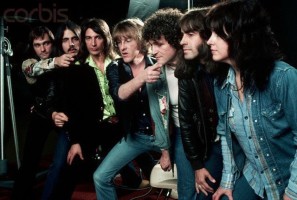 Then in 2007 Grace Slick sued Paul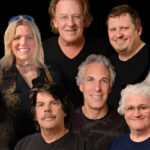 over the use of the Jefferson name without key band members and with the reduced quality of  the musicians performing the original songs.
Years after Starship offically disbanded in 1991,  Mickey Thomas' various solo projects and cover band lineups also started using "STARSHIP: featuring Mickey Thomas."
This is obviously confusing the actual legacy of both original bands and all the music that they authored, recorded and performed.  There seem to be more and more of these misleading products that often claim to be done by the original world-famous Jefferson Starship and Starship artists. (1974-1990)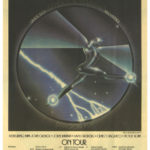 ---
Paul Kantner (RIP) was the only one allowed to use the Jefferson name for his own various Paul Kantner post-hits "Jefferson" projects.  Some of those various different line-ups with Paul are below:
---
After brother Paul Kantner's death in 2016 these performers are still using the "Jefferson Starship" name without him.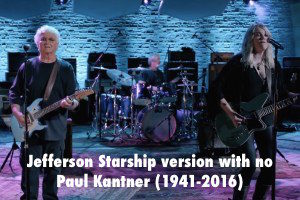 They still perform, record, and sell Craig's Jefferson Starship and Starship hits, logos, and merchandise around the world without any accounting to Craig,  yet Craig is the only original founding member,  hit songwriter,  lead guitarist of both the Jefferson Starship and Starship who is actually featured on all the actual hits, records, tours, and videos.
Craig was the last original member to leave after never missing a show, recording session or rehearsal. This is the most recent 2017 version of a "Jefferson Starship" without Paul Kantner (1941-2016) performing Craig;s own hits including Find Your Way Back, Jane, Fast Buck Freddie, and other hits these individuals never played on like Craig did, including Sara, We Built This City, Nothings Gonna Stop Us Now, etc…
---
---
---
---
"Hey China, what if I were to tell you that someday…" – craig
---